Your Wedding Planner in Mallorca
Would you like to get married in Mallorca? Are you looking for a stylish wedding, a rustic ambient or a Mediterranean wedding with a romantic ceremony? If so, you've came to the right place!
Hi, my name is Patricia Mulet, I'm a wedding planner located in Mallorca and together with my team we'll create the wedding or event you've always dreamed of, you name it we'll make it. 
Are You Planning An Unforgettable Wedding In The Most Beautiful Venues of Mallorca?
In Ritual Mallorca we offer you an infinite range of wonderful places around the Island to celebrate your special event.
Choose between a seafront location, with mountain views, or a totally country setting.
Can you imagine giving the Yes I Do outdoors?
In Ritual Mallorca we give you some wedding ideas that can help you achieve the atmosphere you truly desire.
An ideal decoration, a spectacular bride bouquet, a delicious wedding cake, a fairytale lighting, perfect music… and do not stop the party.
Take note of our wedding proposals and enjoy an unforgettable event.
What do they say About Us?
"I think one of the best decisions we made to organize our wedding was to trust Ritual Mallorca for its complete organization. Professionalism, trust, absolute availability and above all enthusiasm and empathy is what we receive from the magnificent Patricia. Thanks to her, even the smallest detail was solved with astonishing efficiency and we were able to enjoy the meticulous preparation we wanted for that day in a relaxed and nervous way. Everything came out perfect.Thanks Patricia."
Isabel & Xim
"The experience was fantastic, they made everything so easy for us. We live in Madrid and we thought it would be difficult to organize a remote wedding. Yet it was all so easy. They understood perfectly from the first moment what we wanted and they knew how to adapt and exceed all our expectations. Thank you for creating an unforgettable memory."
Sheila & Juan
"Patricia (Ritual Mallorca) was the best wedding planner, we could have wished for! She organised our wedding in August 2019 and everything was perfect. She spent so much time with us, she spend three days in a row just to find the perfect location. She had so much patience when we couldn't decide between two locations. She joined us to every meeting with all service providers (catering, music, photographers) and cared about the budget. Even though organising a wedding could be stressful, we had so much fun and enjoyed all of it. It was great value with a fair price. We can't recommend Patricia enough! Our guests still tell us it was one of the best weddings they have been to ,thanks to Patricia!"
Nadine & Heinrich
"3 unforgettable wedding days in Mallorca, and not only that, the whole process of the organization from Miami with small trips to Mallorca was wonderful. Patricia always gave more than we expected. We can only say that Patricia is our family and in Miami it continue to talk about our wedding as something unrepeatable and Patricia as the person who made our dream come true! Ritual Mallorca is the best! confidence, security, perfection and nobility."
Karina & Daniel
"By a lucky coincidence we got the contact from Particia at the last second. Nothing should stand in the way of our wedding in Mallorca, because nothing better could have happened to us. Patricia is a very bright, committed and very positive person who inspires you with her very direct and friendly nature. You and your company were able to win us over directly because they understood relatively quickly what we had in mind for our dream wedding. She had a direct overview of all things that had to be organized and she was able to respond quickly to all of our requests, even if our location should be a little challenge. Because she has very good contacts in all areas and has a lot of experience, we felt we were in very good hands with her. Especially when it comes to keeping to the timing, Particia is very much after that you give her feedback on time so that nothing stands in the way of planning.
Patricia we thank you for your incredible commitment. We love you. Your Carmen and your Daniel. Big Kiss!"
Carmen & Daniel
"Working with Patricia from Ritual Mallorca was the best decision I made in planning my wedding from Miami. I told him what I had in mind, and what he gave me back was the most beautiful wedding one has ever seen. Patricia I plan everything as if it were her own wedding. With much affection, patience and love. I really couldn't have done it without her."
Christine & Gian
We can't wait to get started with your Wedding or Event!
Just Email Us using the contact form of this page or you can also call or text us at +34 664 04 33 88.
Let's get started!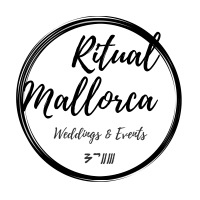 info@ritualmallorca.com
+34 664 04 33 88
Follow Us:
©️ 2020 Ritual Mallorca. All Rights Reserved.