Hi there! Thank you for stopping by at Ritual Mallorca!
My name is Patricia, Founder and Wedding Planner of Ritual. Everything in life has a connection, and thanks to that, I'm grateful of organizing events and weddings.
When I finished my studies in Art History and after specializing in Numismatics and Ancient Art, I started working cataloging works of art for auction houses. With the passage of time I was organizing and coordinating everything that entails the day of an auction event, inauguration of exhibitions, presentation of collections and from there to organize socio-cultural events.
Life was accompanying me to get what I want and what I love: belonging to the most beautiful and romantic part of life, to help all couples get married on their wedding day.
My team and I, love our work! A journey full of many moments that when it reaches the Big Day and we see you happy and joyful in your day makes us feel very happy.
We can't wait to get started with your Wedding or Event!
Just Email Us using the contact form of this page or you can also call or text us at +34 664 04 33 88.
Let's get started!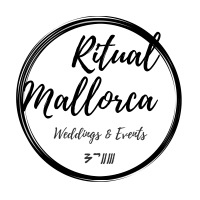 info@ritualmallorca.com
+34 664 04 33 88
Follow Us:
©️ 2020 Ritual Mallorca. All Rights Reserved.