A Wedding Among Majorcan Mountains
One summer afternoon in June, relatives  and closest friends to the couple met at the Majorcan Finca where Anna and Philip said "Yes, I Do". 
The spectacular mountain views from the ceremony and wedding dinner area, so pure and wild, were the perfect environment for this wedding day. An intimate friend of the couple was the master of ceremony of what became a brief ceremony full of emotions and nervous laughter.
The enthusiasm of the couple was breathed in the atmosphere, an exquisite wedding dinner in open air with roots of the  earth harmonized with a starry sky made the day truly unforgettable. Many congratulations Anna and Philip, and for a lifetime together.
We can't wait to get started with your Wedding or Event!
Just Email Us using the contact form of this page or you can also call or text us at +34 664 04 33 88.
Let's get started!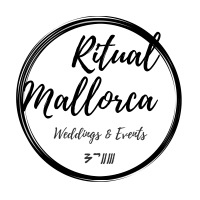 info@ritualmallorca.com
+34 664 04 33 88
Follow Us:
©️ 2020 Ritual Mallorca. All Rights Reserved.