A wedding by the sea with a very intimate and romantic ceremony, in a very exclusive and privileged enclave on the island of Mallorca.
Daytime weddings have a very bright and vivid colors. And so, it was the intimate wedding of Martina & Álvaro.
Organizing each of the little details of the day was something very special.
Complicity, looks, happy smiles and a great love for each other. She is dedicated to the world of fashion and he is a popular flamenco guitarist.
A path to the altar of large golden pineapples and huge tropical leaves led them to a ceremony Arch adorned with tropical leaves and lush orchids, and in front of the Mediterranean Sea they said Yes, I do.
A very special day full of contrasts of nature and with very sophisticated decorative touches.
This beautiful day flooded us all with happiness when we saw a couple excited, in love and grateful for such a spectacular day.
They did not skimp on hugs, toasts, kisses and a lot of celebration between them.
How beautiful are intimate weddings!
Congratulations Martina and Álvaro for your wedding by the sea in Mallorca.
We can't wait to get started with your Wedding or Event!
Just Email Us using the contact form of this page or you can also call or text us at +34 664 04 33 88.
Let's get started!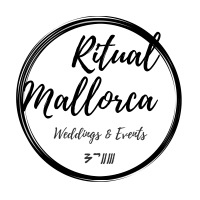 info@ritualmallorca.com
+34 664 04 33 88
Follow Us:
©️ 2020 Ritual Mallorca. All Rights Reserved.