Locations for Your Wedding in Mallorca
On this page we want to tell you all about the best locations for your wedding in Mallorca. Do you need help organizing your wedding in Mallorca? Contact us and we will be delighted to make your dream day come true.
We live on the beautiful island of Mallorca, located in the heart of the Mediterranean Sea, which makes us great connoisseurs of its most charming, special and unique places. Do you want us to show you some? Keep reading.
What must be taken into account when choosing a location for a wedding in Mallorca?
If you are looking for and want to find the perfect spot where to celebrate your wedding, the ideal is to start with the environment you want to surround yourself with: mountain, beach, an emblematic place, a sophisticated atmosphere with sea views… At Ritual Mallorca we give you endless possibilities.
How many guests are you thinking of? It is very important that the chosen place is perfectly suited to the number of people you are going to be on your wedding day. Not too big so that it does not feel empty, nor too small so that you are not like canned sardines, this way you can enjoy your wedding dance!
And the most essential, the Ceremony. Which Ritual are you getting married with? In an iconic Church with a Majorcan soul? A Civil Ceremony? or A symbolic Ritual? Perhaps you have thought of a ceremony in the most absolute privacy…
Best locations for your wedding in Mallorca
For each couple there is a perfect place depending on tastes and preferences. Surely you have that place that is already waiting for you!
If your tastes take you to the top of the mountains and very close to the impressive Mediterranean Sea, in the agrotourism "La Muleta de Ca S´Hereu" you will touch the sky!
This rustic Finca is surrounded by centenary olive trees and by the most starry and beautiful nights in Mallorca.
An emblematic and idyllic place is "Son Marroig", an old Mallorcan possession located on the northern mountain range, on the edge of the sea with incredible views and wonderful sunsets. Romance is served!
If what you like are fairytale castles, the "Hotel Cap Rocat" is the perfect place. Its imposing views of the sea, its iconic architecture and its sophisticated rooms, make this hotel a very exclusive place for your wedding in Mallorca.
Located between the mountains and the countryside is the "Es Cabàs" farm surrounded by nature and absolute privacy. Rustic Majorcan stone patios and stylish rooms make this place the perfect setting for great moments.
A place to go crazy for its privileged and exclusive location by the sea, and its spectacular spaces and gardens is the impressive "Fortaleza de Pollença".
Incredible sunsets, panoramic views, sophistication and Majorcan essence… The place where what happens, happens in a big way!
At Ritual Mallorca we help you choose the best location
Whatever the wedding you are dreaming of, the place you imagine and the desired atmosphere for this wonderful day, at Ritual Mallorca we can help, advise and guide you to find what you are looking for in a very easy, beautiful and fun way. Write us your story, or if you prefer, call us and we'll chat for a bit.
As a wedding planner in Mallorca we will choose the best location for your wedding in Mallorca.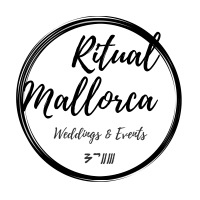 info@ritualmallorca.com
+34 664 04 33 88
Follow Us:
©️ 2021 Ritual Mallorca. All Rights Reserved.