Catering Ideas for Wedding in Mallorca
In this article we are going to talk to you about everything you need to know about catering ideas for weddings in Mallorca. Do you need help with your wedding in Mallorca? Contact us.
When good weather and summer set in on Mallorca, the whole island becomes a true paradise where you can enjoy our beaches, the bright sun, the Mediterranean Sea and savor our Majorcan cuisine.
For this reason, we encourage you to get married in Mallorca!
Today, at a wedding in Mallorca you can enjoy all these aspects and many more, but today we are going to focus on gastronomy and menu ideas for weddings in Mallorca.
When you are organizing a wedding, many doubts come to mind. What type of food to offer your guests to enjoy, what type of menu according to the wedding style and depending on the date, etc. Well, do not worry because always based on your ideas and tastes, the catering will help and advise you on everything that refers to choosing a suitable wedding menu for you.
A catering is very important, both in any type of event, as for a wedding. It is the one who carries the weight of practically everything, and for that reason, they offer a very complete service.
Catering services include the kitchenware and material to be used throughout the wedding: tables, chairs, linens, crockery, glassware, cutlery, bistro tables for cocktails, cocktail-type napkins, bar counter for drinks, etc.
They also include all the necessary kitchenware and service based on the type of food and wedding menu that you have hired.
Many caterings usually include a welcome drink to receive all your guests, it is usually a refreshing cocktail, a glass of cava or flavored water before starting the ceremony or the aperitif.
After the aperitif, once it is passed to the table, it is already fully dressed, you will only have to add to your budget, the decoration and floral part. The lighting if it is a late night wedding.
Ideas for wedding appetizers in Mallorca
As for the aperitif, today, the trend is to make a long aperitif based on finger food tapas and show cooking food stations.
The kitchenware is usually included in the price of the wedding menu, the tables are high, or bistro tables for the aperitif. Depending on the catering, they usually have a catalog where you can choose the type of table according to the beautiful decoration you have chosen for your wedding.
A type of aperitif that we also love is based on food trucks of different styles that offer a very diverse gastronomy.
Ideas for Wedding Menus in Mallorca
Depending on the atmosphere you want to create, you can customize your wedding menu. There are different types of menu:
The classic menu
It consists of 1 hour of finger food appetizer, and then a dinner based on a starter, main and dessert.
The concept of sharing
It is a very Mediterranean style where, once, sitting at the table, all the food trays are placed in the center of the table to share.
The food stations
Create a very summer verbena-like atmosphere. They are very dynamic weddings where the guests get up from the table to go find the dishes of food that they want…. and to socialize!
Wedding Catering Prices in Mallorca
Mallorca is a very cosmopolitan island and adapted for all kinds of people and pockets.
You will find different styles and gastronomic options for your wedding or event.
If you want us to help you organize your wedding catering and provide you with more catering ideas for a wedding in Mallorca, you just have to contact us, we will talk about your wishes and we will help you plan your wedding day in Mallorca.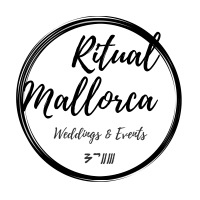 info@ritualmallorca.com
+34 664 04 33 88
Follow Us:
©️ 2021 Ritual Mallorca. All Rights Reserved.