A Wedding By The Mediterranean Sea
From the classic and traditional wedding style to the most heavy metal wedding flow. A very pure and wild complicity flooded the Alcudia bay on a very pleasant summer day in Mallorca. Close friends and family, and some very punk touches, welcomed the Bride who came by the shore of the beach to the protestant ceremony celebrated in the beach club venue.
A ceremony that left all the guests speechless, only the sea breeze could be heard. An exquisite and strident tropical wedding decoration wrapped an unforgettable frame, a wedding dinner and evening that were the prelude of a very fun and personal event party.
Congratulations Yolanda and Martino for your beautiful wedding at the beach, you have really conquered our hearts.
We can't wait to get started with your Wedding or Event!
Just Email Us using the contact form of this page or you can also call or text us at +34 664 04 33 88.
Let's get started!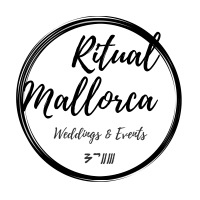 info@ritualmallorca.com
+34 664 04 33 88
Follow Us:
©️ 2020 Ritual Mallorca. All Rights Reserved.