The Making Off of a sophisticated, intimate and glamorous wedding at the Jumeirah Hotel & Spa in Puerto de Sóller, Mallorca.
This is a very beautiful story of teamwork, organizing weddings and events involves many fronts, and you need to create a good work team so that everything goes well, and especially for the bride and groom to enjoy a wonderful day in an incredible place from Mallorca as is the Jumeirah hotel & spa with stunning views of the sea.
The Balearic Association of Weddings and Events supported the initiative of this teamwork at all times, allowing us free rein to create a wedding scene in which we wanted to combine sophistication and elegance with the simple and the Mediterranean.
In Ritual Mallorca we take care of the organization and coordination of all the details of this wedding day in a unique enclave in Mallorca.
This time, we wanted to bet on the entirely exuberant views of the bay of Puerto de Sóller. An impressive frame of nature wrapped and decorated by elegant, tropical and minimalist lines.
Organizing and coordinating every detail that makes up this romantic seaside wedding scene implies creating a good team of professionals who are passionate about their work.
We started by looking for an ideal wedding location, which was the enclave to carry out an intimate, relaxed and romantic Ceremony escorted by a magnificent Ceremony Arch, floral and bridal bouquet by the hand of "Floraevent".
The company "Exclusive for events" provided all the kitchenware, furniture and material for the assembly of an imperial wedding table with contrasting touches in gold and black tones. Simplicity, elegance and minimalism was the desired style for this wedding scene overlooking the sea in a luxury hotel in Mallorca.
It was a very relaxed and fun working day where we all collaborated, participated and helped to achieve a beautiful result.
Makeup and Hairstyling from the perspective of two influential aesthetics and styling, Jose Ojeda and Sergio Quesada.
An elaborate wedding dress made by hand with rhinestones for the occasion designed by Lena & Lena Novias, paired with heart-stopping heels from Shelight. The classic suit of the groom from the firm Mafedo de Mallorca. The jewelry, diamonds, Tiara and rings in collaboration with the Weiler Jewelry.
A tasty and bright wedding cake gave the sweet touch to the day made by the Guindalia girls. All stationery and graphics, invitations, minutes, menu, etc. It was designed and handwritten by Miss Cherry.
A perfect day of teamwork, concentration, effort, passion, laughter, pleasant conversations and emotions in romantic moments like the ceremony (there was even a little time for toasts and tapas).
All captured and captured by the dynamic lens of wedding photographer Soni Martinez and filmed on video by Black Cat audiovisual.
We love our work, and creating a good team to make the wedding of your dreams come true is our plan! Do you want to organize your wedding in Mallorca with us?
Contact us and tell us how you would like to get married in Mallorca.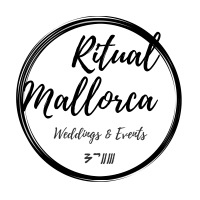 info@ritualmallorca.com
+34 664 04 33 88
Follow Us:
©️ 2021 Ritual Mallorca. All Rights Reserved.