Licenses for fincas to celebrate weddings and events in Mallorca
With so many changes that we are experiencing and so fast, we forgot to tell you about the interview that "Cinc dies" program of the local television of Mallorca, IB3 Television, gave us.
The interview was about the licenses and permits of the fincas to celebrate weddings and events in Mallorca.
It is a very important issue, and it is necessary to know that the place you have chosen to celebrate your wedding complies with all regulations and licenses.
Why is it important to have the licenses for the finca?
Whether it is a finca, an agrotourism, a winery, a Beach club, we recommend an advice on the licenses and permits that the location may have.
The most important license is that they can host weddings and events. It would not be nice if in case of breaching these regulations, the police came to put an end to your wedding party.
With all the time and money invested in each of the details and suppliers such as the catering wedding menu, the decoration, the lighting, the flowers, the music, but above all the great illusion that you have deposited on this great day, and the dream of sharing it with your guests, we do not want it to become a sad end of the wedding with lawsuits and fines in between, as happened to the couple we discussed during the interview on IB3 Television.
There are different types of licenses and permits for weddings and events in Mallorca.
Check well with the place if in addition to the celebration licenses, it has the music license for the party, I mean that you can enjoy, in addition to your first wedding dance, a dance and fun until dawn without being limited with music volume and time.
At Ritual Mallorca we want to help you with all the formalities of organizing your wedding in Mallorca; And as we always say, if you have any questions or queries that may arise, contact us and let's chat.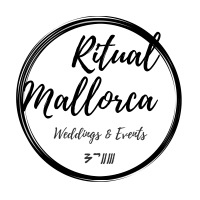 info@ritualmallorca.com
+34 664 04 33 88
Follow Us:
©️ 2021 Ritual Mallorca. All Rights Reserved.