How to organize a Wedding on the Beach?
If we talk about how to organize a wedding on the beach, we talk about licenses and permits, the type of ceremony (very far from a solemn church hall, from the closed room of a town hall, or from an old architecture belonging to a typical Majorcan estate).
We also talk about meteorology, the type of dress and details, the decoration, that never disturbs the environment but gives it that touch of celebration, etc.
Organizing a beach wedding may seem very complex and with many issues to resolve, but the result is tremendously idyllic and sensational!
What does it take to organize a beach wedding?
Mallorca is a beautiful island that blends into the Mediterranean Sea through beautiful beaches of soft sand, transparent waters and of varying sizes. A brilliant blue sky and a nice romantic Mediterranean breeze.
The beaches and the Mallorcan coast are aesthetically iconic and paradisiacal places due to their light, their wild nature and their environment isolated from the world.
Are you already feeling that sensation of your bare feet caressed by the seashore and the sand?
Well, if this is your case, let's get going! You just need a lot of desire to give you the Yes I want! and have it all tied up to enjoy the Big Day of your beach wedding.
4 keys to keep in mind on how to organize a wedding on the Beach
1. Licenses and Permits up to date
Having everything tied up means that you must hace all the relevant licenses and permits up to date to be able to celebrate your wedding in a public space.
The beaches are places of public use belonging to the town councils, and it is here where all the paperwork will be carried out to obtain the permits for the celebration on the beach that you have chosen for the occasion.
If, for example, your dream is to get married on the beach of "Son Bauló" (Can Picafort), the request would be made at the Santa Margarita town hall. If your dream leads you to say Yes I want! on the beautiful beach of "Es Trenc" with views of the Island of Cabrera, the request will be processed with the Campos town hall…
2. Choose the correct day
At the beach we are completely outdoors, so the weather is very important.
Choosing an ideal date, depending on the season, is vital. You don't want a windy, cold, or wet day, right?
3. Choosing the place for the banquet and party
One combination that we love is having the ceremony barefoot on the beach, followed by an original "newlyweds" toast.
Everything else, dinner and party, will be moved to a place with the same vibes but greater comfort where you can enjoy good food, good drink, good music, a great dance and a day or night of eternal happiness…
4. Add small details
The wonderful thing about a beach wedding is that everything has a very romantic, soft, simple and easy air.
There is no better decoration than the incredible environment where you are going to get married.
You will only need some detail and floral to give it that festive and ceremonial touch, the rest is already included!
At Ritual Mallorca we help you organize your wedding on the beach
Of course it is!
We can give you endless ideas, we can take you to many places by the sea, we can help you with the paperwork, we can take care of the logistics… we can do everything for you.
To organize a wedding on the beach is a very beautiful process full of great moments, and we are here to make it much easier, but above all, that you can achieve what you have always dreamed of…
Write or call us and let's chat!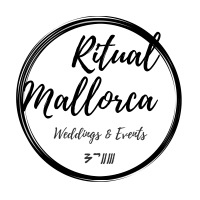 info@ritualmallorca.com
+34 664 04 33 88
Follow Us:
©️ 2021 Ritual Mallorca. All Rights Reserved.