How to organize a wedding in Mallorca step by step?
Congratulations on your future Wedding! We are delighted to be able to explain to you how to organize a wedding in Mallorca step by step.
You have already made the decision, there has even been a "Request for a Hand" and it has been a wonderful and very special moment.
Also, you have already given the news to family and friends, we are getting married! They are very beautiful and happy moments that you have dreamed of before, but… Now what? Where do we start?
Endless doubts and questions to be clarified, that in Ritual Mallorca we will try to help you clarify to organize and celebrate your wedding in Mallorca.
Tips to organize a wedding in Mallorca without forgetting anything
In this small article we want to tell you how to organize your wedding step by step in Mallorca.
At this time, surely you already have some idea and preference of the wedding style you want.
A rustic style wedding in the country, a very chic wedding in the city, a sophisticated wedding with many guests, an intimate wedding on the beach and barefoot…
Well then, let's start at the beginning!
The place
Based on your preferences, the ideal is to do a search, request information and organize a schedule of visits to this filter of places to choose the one that you like the most and fit to celebrate your Wedding in Mallorca with your guests. (In order not to go crazy, we advise you not to visit more than 4-5 places).
The Catering
Food and drink are very important at a wedding.
Once the location issue is resolved, it is important to move forward with catering. Also based on your tastes, it is good to filter the options, which, for sure, will always be delicious!
A Menu Test will help you decide on the catering that you like the most for your wedding day, and it will also be a very romantic moment!
The decoration
In Mallorca you will find a wide range of companies that offer different styles of decoration and kitchenware, floral, lighting, etc.
After doing a little research online, we advise you to contact us to request a budget based on your ideas.
The decoration and floral team will prepare a project for you with different proposals to give that festive and colorful touch to the place, the ceremony and the spectacular Bridal Bouquet.
Music
Music moves souls and creates great moments.
A Spanish guitar for the Ceremony, a live music band for the aperitif, background music during dinner, a super special and intimate song for your wedding dance, or a DJ for a night of endless dancing.
In Mallorca you can find the perfect music for you and at every moment of the day. Let the party begin and don't stop the music!
Other details
The photographer of your style, transportation for you and your guests, accommodation, styling, graphics, the most unexpected surprises and the most unforgettable details.
How to organize a wedding in Mallorca in a short time?
Are you one of those impetuous and in love couples who have decided to get married and want to do it now?
Congratulations! Organizing a wedding in a short time is not that complicated. For the entire organization process to develop rhythmically, the only thing to keep in mind is choosing a place that can offer you different packages and combinations of catering, lighting, decoration, music, etc.
All in one is easier.
At Ritual Mallorca we help you organize your wedding in Mallorca
At Ritual Mallorca we love that you are going to have the wedding you have always wanted.
Therefore, if you have doubts and need help, we would love to hear all your ideas about the Ceremony, the style of the place, the atmosphere that you want to create, and thus be able to give you more information and an indicative budget.
We will take care of guiding ourselves in absolutely all the steps, providing ideas, negotiating with the different suppliers, solving each and every one of the events to organize a dream wedding in Mallorca.
We will be a team in which Ritual Mallorca takes care of everything, and you will enjoy and have fun in the process.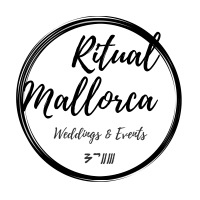 info@ritualmallorca.com
+34 664 04 33 88
Follow Us:
©️ 2021 Ritual Mallorca. All Rights Reserved.