5 Wedding Styles to get Married in Mallorca
Mallorca is a very iconic island, combining the traditional and of yesteryear with the modern and cosmopolitan. Diversity of natural landscapes, architectural environments and styles of fashion, art and culture.
Everything looks good at a wedding in Mallorca! But today we are going to tell you the most successful wedding styles to get married in Mallorca.
And how could it be otherwise, the beaches of Mallorca are the most beautiful in the world, that is why this is one of the most used wedding style to get married in Mallorca. The Mediterranean Sea is characterized by its color, breeze, brightness and calm.
A beach wedding is characterized by great simplicity where the great decorative and romantic element is the sea. The ceremonies are usually held by the sea, barefoot and with more informal, comfortable, natural and Mediterranean styles.
The banquet always outdoors, in a beach club or terrace where the simple decoration continues to be the protagonist along with the brightness of the sea and the light tones.
The tables are very simplified in their decoration with very natural touches and colors that do not break with the environment. A tropical décor also adds liveliness to the scene.
The white, long or short wedding dresses of flowing, loose and light fabrics. They play with transparencies to achieve that essence of a romantic Mediterranean bride. By the sea, everything is more authentic and wild.
The bride and groom dress in linen clothes, sometimes combining a complement with the well-known and characteristic Majorcan fabrics.
And let's never forget to arrive to the wedding in an orange "mehari"!
A boho chic style wedding in Mallorca is very easy to achieve.
If what you are looking for is an unconventional wedding, boho chic is your style!
The boho chic style is a concept based on bohemian and hippie influences that emerged in the late '90s. Over the years it has been drifting towards a more romantic, composed, refined and modern path.
The traditional Mallorcan country houses with their typical old stone patios offer a very bohemian essence that favors the enhancement of this "carefree" style.
The boho chic decoration is ethnic and racial, mixing ancient and modern dyes. The tables and furniture usually have ornate centers of natural materials, complex pieces and flowers in earthy colors and intense tones.
Boho chic weddings are often held in the country and outdoors.
As we mentioned a few lines above, Mallorcan farms are the perfect place for this style of wedding in Mallorca.
A boho chic bride is romantic, feminine, relaxed looking, delicate and very natural. She can sport bracelets, anklets, headbands, and necklaces.
A boho chic groom does not wear a suit, his style is very much in keeping with the relaxed and vintage environment that has been created for the wedding day. A white or natural-colored shirt with skinny pants or even jeans is the ideal outfit for a wedding with such a studied atmosphere.
In a boho chic wedding, lighting is very important with the sunset. Garlands, candles and many chandeliers regain life and prominence to rekindle that touch of decadence and romance.
Classic style weddings never go out of style in Mallorca and are very popular as a wedding style to get married in Mallorca. Thanks to the culture and tradition of the island, Mallorca today has a great treasure in architecture from past centuries.
Villas, rooms and gardens of a classic character where celebrating a wedding becomes something very authentic and with a lot of soul.
A classic style wedding is characterized by lush and elegant textures where glamor is present at all times.
Classic-style weddings tend to feature sumptuous décor where crystal abounds, tall and magnificent centerpieces, with luxurious flowers escorted by dim candlelight in a setting that is intended to highlight no more than the prominence of a strikingly sophisticated bride. and distinguished.
A classic style bride is characterized by her elegance contrasted with exuberance and glamor.
It is the infinite universe of pleats, drapes, the princess cut, and of course, a classic wedding dress must always have a generous train.
The classic style groom is a very formal looking groom. The morning suit is the quintessential suit for classic-style weddings, in dark and elegant colors. A classic style groom is impeccable and careful in all the details that make up her look.
A classic-style wedding starts with a gemstone-style wedding invitation, very simple but with a lot of poise.
Rustic style weddings in Mallorca are a deep feeling for the countryside, nature and rural life.
Rustic-style weddings are held in very natural enclaves where country accessories such as wood, straw, stone, the native flora and fauna of the island live, giving the scene a very chic touch.
A very anecdotal brushstroke, the hens of Mallorca often become surprise guests at ceremonies in the middle of the field.
Simplicity is the queen of decoration in rustic style weddings. Very long solid wood tables, a path in the center made with olive branches or other wild leaves and spruced up with candles and other little touches from the countryside.
The floral accents are in soft and subtle colors and the soft colored servilles tied with rope become a decorative complement.
In this style of weddings, dinner is very dynamic, there is no typical three-course menu, but rather "Food Stations" as if it were a Mallorcan town festival.
A barbecue station will have your guests licking their fingers!
Rustic style wedding dresses stand out for their embroidery, lace and fringes, always paying tribute to nature. A super natural makeup and the main protagonist is the Bridal Bouquet made from wild flowers and with a wild appearance, always in accordance with the rest of the decoration and the place.
The rustic-style groom does not wear a perfectly fitted suit, but rather a more baggy suit with the intention of not wearing a jacket. Suspenders, a bow tie, or a vest are accessories that are usually worn in earthy colors and very soft blue tones.
If you want to get married in the purest rustic style, Mallorca is your perfect place. The island is full of beautiful rustic estates that decorate all the rural life of Mallorca.
They are the most personalized wedding style there is.
Arrive at the altar dressed as a bride to the "Game of Thrones" in a wonderful old castle, see all your guests dressed in the cabaret style of "The Great Gatsby", or a nautical and seafaring wedding…
Mallorca has an endless number of beautiful places where themed weddings are always possible.
If you want to get married in a different way, tell us your idea and we will advise and help you with all the details of your themed wedding in Mallorca.
At Ritual Mallorca we make your Wedding Style come true
We hope that with this article you have got ideas about the wedding styles to get married in Mallorca. If you need a wedding planner to make your style come true, contact us.
Let's start making your dream wedding come true!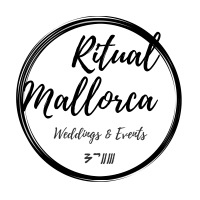 info@ritualmallorca.com
+34 664 04 33 88
Follow Us:
©️ 2021 Ritual Mallorca. All Rights Reserved.